I wrote this post in February but didn't bother to take pictures until literally today. I have a huge backlog of crap I need to photograph. Blogging is hard!
Late last year I got bit by an embroidery bug out of nowhere. It probably had a lot to do with coming across Sarah K. Benning's work. I wanted to sign up for her monthly embroidery subscription immediately discovering it. I held off because I wasn't sure I'd actually like embroidery, or even be capable of it. I also didn't know what I'd do with finished pieces. Hanging embroidery hoops on the walls tends to look a little more cottagey or traditional than I like, even when the design is modern.
I told myself to hold off til the New Year to pick up another hobby. When 2017 rolled around and I was still interested, I decided I should start with a simple all-inclusive kit. I wanted a modern design that would teach me the basic stitches I needed, and include a pre-printed design with all the instructions and supplies I'd need. I found exactly that with Vintage Mad by M's kits.
I got the Spring Tattooed Lady, shown above. I hadn't realized before smashing BUY that she ships from France, whoops. I also didn't pay enough attention to remember how fast the package arrived, but it wasn't unreasonable. I sprang for the kit and purple crane scissors because I need some cool scissors shaped like birds.
I cross-stitched a bit as a kid and hated every second of it because it takes for god damn ever and the needle placement is picky as all hell. I liked this SO much better. My kit came together in two days of work, maybe about 5 hours for all the black and another 5 hours for the color. I didn't intend to bust this out over two intense sessions, but once I got going I just didn't notice the time passing.
The kit required four stitches: back stitch, satin stitch, French knots, and lazy daisies. It came with a booklet of instructions on the specific kit, and a booklet of stitches. They were both done low-fi zine style and hand lettered in cursive. This is where some of my personal tics come into play. I can't read cursive well and I usually find stitch diagrams/instructions massively confusing. I used the kit's instructions as a first reference and googled a couple other tutorials for each stitch. Vintage Mad by M's instructions were fine, I just needed more examples to fully get what I was supposed to be doing.
I'm very happy with how it turned out! This kind of embroidery is way easier than I thought. I really like doing it while watching TV and relaxing. My final project is gorgeous. I'm thrilled and proud even though a lot of it is very messy and I made a bunch of mistakes that I didn't bother tearing out. For this first project, it was more important to me to keep learning, moving, and enjoying the process than getting immensely picky and technical.
I had a lot of trouble with the lazy daisies, so I made most of the smaller flowers with simple stitches. The lazy daisy loops wouldn't come out even and kept twisting. I also misread the pattern and gave my lady fishnet panties and a larger butt instead of a slim butt with fishnet stockings. I like it this way, though.
The other area I had trouble was the hair and headband. I just winged it with the satin stitch. I back stitched the outline in 1 black strand, as instructed. I satin stitched with 3 black strands all the way from one end of the hair/headband to the other, then went around and filled in the edges where I wasn't super precise. I see now that the sample project avoids my pitfalls of random loose threads by overlapping shorter stitch lengths. I didn't notice this tip in the kit instructions or the tutorials I googled, and I would have liked to have more detail on technique on this point.
Overall I'm super happy, probably addicted, and ready to draw my own patterns. I'm having trouble finding modern patterns I like, but there's no shortage of inspiration in Etsy and Instagram.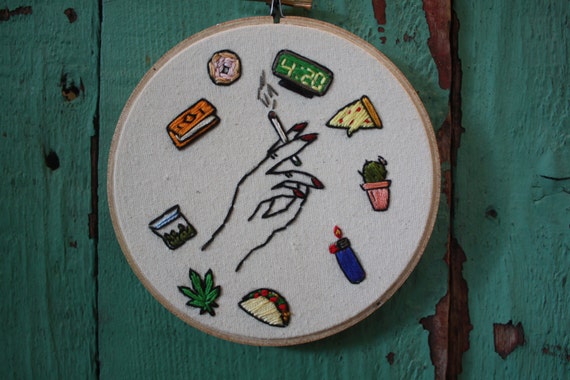 I can have all the trendy geometric black work tattoos I want if I just embroider them…